Places Of Interest
The following list of visits have been compiled to help you plan your holiday. It is virtually impossible to list all of the places to visit, consequently the greatest problem is not what to include but what to leave out. Please remember that seasonal places may vary their opening dates and times and we strongly advise you check before you depart.
The weather during the early season can be unpredictable as the plants need a drink after winter. July August the temperatures have risen to 35 and you could expect storms. Autumn is a peaceful time where the evening start to get crisp though the days can be very pleasant.
We have a simple table to help you Choose which day is suitable for your chosen place to visit.
Wet/ Rainy day L Inclement Day K Sunny day J
To help with the vast selection we have divided into Towns / local areas and Regions. Just select the local area your interested in and you should find a selection of places to visit.
INTERLAKEN THE LAKES LAUTERBRUNNEN GRINDELWALD KLEINE-SCHEIDEGG GROSSE SCHEIDEGG BREINZ MEIRINGEN THUN
FRUTIGEN (Keintal, Kandersteg & Adelboden)
ZWEISIMMEN BERN LUCERN GENEVA PASSES
RAIL Time Tables Travel Reductions Tickets OTHER.
KLINTERLAKEN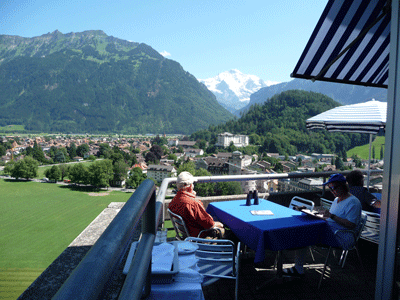 As itís name implies is situated between two lakes, Thun and Brienz.Interlaken is one mile from our site set in the heart of the Bernese Oberland. It has museums, cheese making in the Chas Dorf (Little cheese village), Flower clock in the grounds of the Kursaal, Horse drawn carriages, Casino, Heimwehfluh with itís model railway and Bob run Sbb model trains. Interlaken has its own mountain the Harder Kulm where you can take a funicular train to the top. Here you can relax in the garden of the mountain restaurant and take in the magnificent view of Interlaken and the surrounding mountains.
JK Golfclub Interlaken For the golfer, you will need your handy cap
L ST Beatus - Hohlen A short distance for Interlaken on bus route 6. Visit the underground labyrinth of St Beatus, where fact and fiction and come together to create a lovely adventure for the children.
J JUNGFRAUJOCH - TOP OF EUROPE ( World Heritage area UNESCO )(W)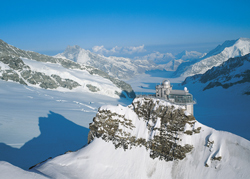 is the highest railway station in Europe, 3454m/11333ft. Probably the most famous train journey in Switzerland. A thrilling tour to the Alpine wonderland of snow and ice which should not be missed. The beautiful scenery of meadows and pastures changes as the train climbs inside the Eiger and emerges among snowcapped mountains, Glaciers and snow fields. At the summit you'll find an Observatory, Research center, exhibition, Ice Palace and Restaurant. Remember to take with you sun/snow glasses, adequate clothing and flat shoes. This trip is not suitable for anyone with asthma or heart condition. A trip of a lifetime! (6-7 Hours)
J SCHYNIGE PLATTE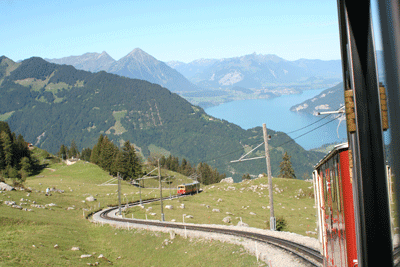 Set in the village of Wilderswil next to the railway station, This makes it a popular train up into the mountains. Offering fantastic local views of the towns and Lakes culminating in a
spectacular view of the surrounding peaks. Taking 1 hour to reach the top. Beautiful rack railway.
Market days in the High street seasonally Check with the Tourist Office.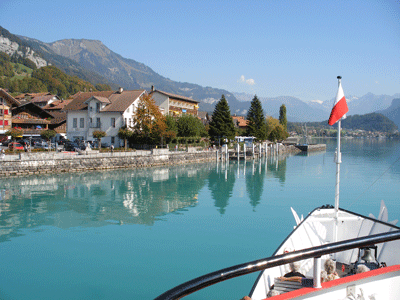 Thunnersee and Briensersee are two lakes to visit on a wish list with there romantic past and present as you take a relaxing journey round any one of the two lakes. You can visit castles, Caves, Thermal bads, Towns, Villages, and Funiculars.O just use to take a beautiful walk around the lakes.
KL LAKE BREINZ is the colder of the two main lakes receiving most of the alpine snow. Probably the more spectacular of the two lakes with a few villages to stop and explore, and only Interlaken & Breinz as the main villages. Others of main interest are Bonigen with its beautiful surrounds and historic houses. Isrltwald a village set on a peninsular full of wonderful character, or simply take a walk to Giessbach falls along the lake edge. In July - August BLS operate a Swiss experience incorporating a Cruse with Traditional Swiss Buffet.
Lake Steamers operated by BLS
KL Folklore
Each town and village has its own history to tell but William Tell the famed founder of today's Switzerland is played out in Interlaken's Open air Theater.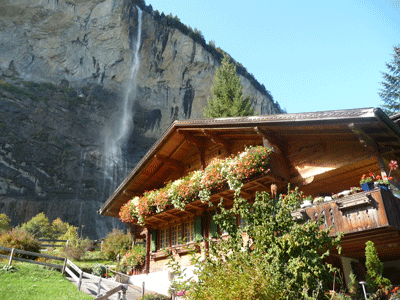 is called the valley of the water falls. You will see why this is as you drive up the valley. With numerous water falls, the most spectacular being at Lauterbrunnen the

"Staubbach" or sometimes called Wedding veil. From Lauterbrunnen you can take a cable car to Grutschalp, where you can either walk to traffic free Murren or take the train.

KL

TRUMMELBACH*

falls. This is a cascade of 10 glacier fed waterfalls inside the mountain. The Trummelbach falls drains the glacier of the Eiger, Monch, and Jungfrau mountains. In full flow the water gushes down at some 18,000 liters per second bringing with it over 20,000 tons of boulders and debris per year. Trummelbach falls is the only glacier fed waterfall in Europe inside a mountain and still accessible to the public. (3 Hours).

J

STECHELBERG. Situated at the end of the Lauterbrunnental. From here you can take the cable car to the Schilthorn which takes approximately 30 minutes. There are also numerous well marked walks into the mountains.

J

WENGEN. By train from Lauterbrunnen, Wengen is situated high above the valley on the opposite side of the valley to Murren, and is also traffic free. Famed for its fast winter ski slopes.from here you can catch the cable car to Mannlichen

J

MANNLICHEN.
From Grindelwald your can enjoy one of Europeís longest gondolas to a spectacular panoramic view of the local region with Schilthorn & Junfrau easily viewed or from Wengen catch the Cable car up to Mannlichen. For an easy walk you could follow the well signed path to Kleine Scheidegg.

J

SCHILTHORN - PIZ GLORIA.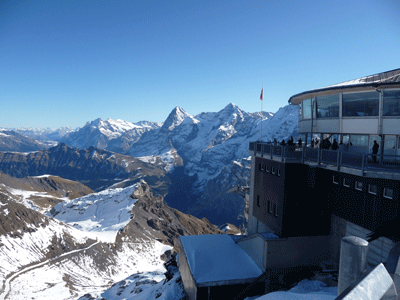 James Bond fame, this breathtaking Cableway is the longest in the Bernese Oberland. At the summit 9,744 ft - 2970m the Piz Gloria is only 34min cable car ride from Stechelberg in the Lauterbrennen vally. Stopping at Gimmelwald, Muerren, Birg and finally the 007 famed revolving restaurant and viewing platform of Schilthorn. Providing the perfect vantage point for magnificent views of over 200 mountain peaks. On a clear day you can see Mt Blanc and Pilatus and beyond (4-5 Hours). ALLMENDHUBEL:- is a short walk from the Meuren Station (Either station). A short funicular ride to 6256ft - 1907m above the picturesque village. Relax and soak up the alpine views with Eiger, Moench and Jungfrau, discover the some 150 alpine flowers as you choose one of many walks from the top.

J JUNGFRAUJOCH - TOP OF EUROPE ( World Heritage area UNESCO )(W)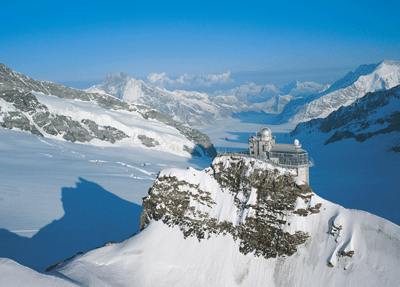 is the highest railway station in Europe, 3454m/11333ft. Probably the most famous train journey in Switzerland. A thrilling tour to the Alpine wonderland of snow and ice which should not be missed. The beautiful scenery of meadows and pastures changes as the train climbs
inside the Eiger and emerges among snowcapped mountains, Glaciers and snow fields. At the summit you'll find an Observatory, Research center, exhibition, Ice Palace and Restaurant. Remember to take with you sun/snow glasses, adequate clothing and flat shoes. This trip is not suitable for anyone with asthma or heart condition. A trip of a lifetime! (6-7 Hours)
J Stechelberg /Steinberg This walk is all day From Stechelberg in the Lauterbrunnen valley to Steinberg (where you pass one hotel and if your lucky, reach the second Hotel. Beautiful area with the best of nature locally. The local walking club does offer walks with them and you can enquire in Lauterbrunnen Tourist office for further information. Directions:- Park at the end of Lauterbrunnen valley and follow the valley on up into the mountains.
FIRST.From Grindelwald you can catch the First Gondola to a height of 7106 ft 2166 metres, for spectacular views and the start of many alpine walks.
J MANNLICHEN. From Grindelwald your can enjoy one of Europeís longest gondolas to a spectacular panoramic view of the local region with Schilthorn & Jungfrau easily viewed , catch the Cable car down to Wengen, For an easy walk from Mannlichen you could follow the well signed path to Kleine Scheidegg.
J MANNLICHEN. For an easy walk you could follow the well signed path to Mannlichen.
Beautiful staring point for many walks www.grindelwaldbus.ch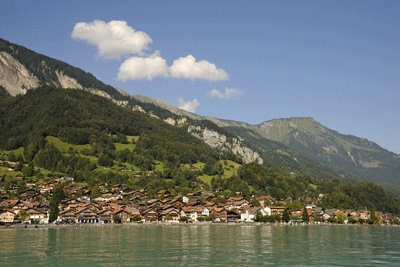 BRIENZ Is a very picturesque village situated on Lake Brienz and well known for its wood carvings. Most of the wood carving is now done in the homes in the surrounding villages. There is still a wood carving school in Brienz where you can see woodcarvers at work (5-6 Hours).

J

ROTHORN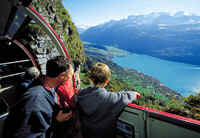 From Brienz take a 1 hour train ride up the Rothorn, one of the last steam operated mountain railways in Switzerland. A steam or diesel train will take you to a height of some 7,700ft. On the journey you will pass through forests and pastures. The scenery all the way is breathtaking (4-5 Hours). www.brienz-rothorn-bahn.ch

JKL

BALLENBERG (Cultural open air Museum)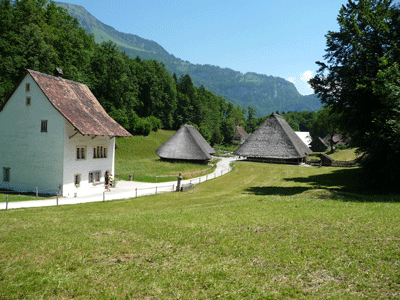 near Brienz, is an open air museum of Swiss houses from each region of Switzerland and various other ancient

buildings restored and rebuilt as they were many years ago. Spread out over 130 acres, it gives an insight into the way the Swiss used to live. If you visit Ballenberg on a Saturday or Sunday you will often be able to see a selection of crafts, Lace making, Spinning, Wood Carving, Basket Weaving, etc. To see all that Ballenberg has to offer you would need to allow at least 4 to 5 hours and be equipped with comfortable shoes. www.ballenberg.ch

THUNNERSEE

KL

LAKE THUN is the warmer of the two lakes with all forms of water sports available. Many interesting villages with their castles are set around Lake Thun. Spiez with its castle and vineyard (run by the monastery). The castle and church date back to the middle ages. Spiez has a harbor inlet which is ideal for an evening stroll. Stop at Oberhofen and visit the castle beautifully situated on the lake shore. A Lake steamer ride on Lake Thun is very relaxing amid beautiful scenery. The round trip from Interlaken will take approximately 4 hours. You may join or leave the steamer at any of the numerous stops.

KL

THUN This is a fascinating medieval town with narrow cobbled streets in the old part of the town, There is a four towered castle, which stands out overlooking the town. Thun is excellent for shopping with a wide selection of shops to suit all tastes. The shops are closed until 1pm on Mondays in Thun. Explore the history of this fascinating town going well back beyond 12th century. (3-4 Hours).

KL THUN

CASTLE dating from 1430.

KL

OBERHOFEN Well known for its lakeside castle which has a very attractive roof. At itís best seen from the lake on a lake steamer trip. In the grounds of the castle are some beautiful gardens named after Sir Winston Churchill (2-3 Hours).

J

BEATENBUCHT A short funicular train ride to the mountain village of Beatenberg. From here you get some magnificent views of the Eiger, Junfrau, Monch mountains and Lake Thun. From BEATENBERG you can take a gondola to the Neiderhorn with its panoramic view of the Bernese Oberland.

L

BEAUTESHOLEN Visit St Beatus caves (prehistoric cave dwelling) The guided tour of the caves go to an approximate depth of 1000m along a well lit path. There is a 10 minute walk from the car park to the cave entrance (2-3 Hours).

NIEDERHORN:- A perk on the outskirts of the Bernese Oberland offering spectacular views and over 150km of outstanding walks to suit most ages. As with many Swiss Peak today there is a well position restaurant to relax over a coffee. While enjoying the views of Lake Thun and Niesen (5 hours).

NIESEN:- Pyrmid of Europe or better the Alps. Just ask the children to draw a mountain that the Niesen. At 2362m with one of Europe's steep funiculars in two sections over 30mins, it no wonder so many flock to the peak. Views are 360deg Mountains, Lakes and valleys. not least look behind you and see the Jura Mountains (Swiss / France boarder) here even a path to the top. (5 Hours)

SPIEZ CASTLE Dating form 11th century and has probably the best views of Thunnersee. www.schloss-spiez.ch

Meiringen is Home to the Meringue but this village is a beautiful location where Sherlock holms finally caught up with his arch enemy at the Reichenbach falls now you can take a funicular to the falls. Visit the Aarecchlucht geological craves where the only way out for all the upper alpine water is through the Aarecchlucht gorge. Its the end of the line before the rail ways starts its journey up the Brunig to Lucern

JK

AARESCHLUCHT* gorge near Meirgingen. You can walk though the gorge on wooden walkways suspended above the river Aare. The towering rock walls lining both sides of the gorge are barely a meter apart at the narrowest points. If you are fortunate enough you may find one of the rare alpine plants. The gorge is open from April until November, weather permitting. On Wednesdays and Fridays in July and August it is beautifully floodlit from 9pm. ( 3 Hours)

JK

REICHENBACH falls of Sherlock Holmes fame. A short funicular train journey takes you to the half way stage, where you can view the falls. If you continue on foot the well trodden path winds its way up the mountain side where you will come to a bridge over the falls, where it is said Sherlock Holmes met his death (3 Hours).

J Joch Pass. This area is a natural park and has some fantastic wild life, marmot, deer, flowers and reptiles with a beautiful lake at the top.

Directions:- Interlaken - Brienz - Meiringen - Innertkirchen then approximately two to three miles towards susten pass turn left to Engstelen /Joch pass a further two to three miles you pay for toll road which takes you a further four to five miles to a large car park. 5 min. walk to lake.

JK GELMERBAHN The worlds steepest Funicular with 106% maximum gradient, an experience not for the faint hearted. With short 3 hour walks back or full days out set in fantastic alpine scenery. www.grimselstrom.ch To find this one you take the Grimsel pass road from Meiringen, and approxamatly half way up the pass watch out for the signs on the left to a small car park and KWO.

JK CRISTAL & PUMP WORK (KWO) a Tour of a working reservoir and pumping station in caves below the lake, and a tour of some crystals found during the building work Duration 4 hours. (not suitable or young children) www.grimselstrom.ch 033 982 20 11

JK Trift is not for the faint hearted being Europe's longest and Highest suspension foot bridge. At 102m long and 70 m high.

KL BERN The capital of Switzerland, was founded in 1191 and built mainly of wood. Most of Bern burned down in 1405 and was rebuilt of sandstone of which most still stands today. In 1798 Napoleon and his troops came to Bern which resulted in the fall of the ancient regime. Today Bern is ruled by the confederation. Whilst in Bern visit the Parliament buildings, Cathedral, Clock tower, Botanical gardens, Prison tower, Market and of course not forgetting the Bern bears (4-6 Hours.

FRUTIGEN (Kandersteg & Adelboden)

JK KEINTAL Nestled in the valley, on route to Frutigen, lovely walks in beautiful meadows.

JKL FRUTIGEN* A market town where the farmers can sell or buy their cows/goats etc. At Frutigen you can either take the road to Adelboden, or continue on the road to Kandersteg. On route to Kandersteg you will see on your left a railway winding its way up the mountain side. En-route to Italy via the Lotschberg-Simplon tunnel, on the right hand side is Blausee.

J

KANDERTAL You can get to this valley by taking the motorway road towards Thun then follow the road to Aeschi, a very picturesque route, or alternatively stay on the motorway and follow the signs to Kandersteg/Adelboden.

JKL

BLAUSEE (Blue Lake). This trout breeding farm is set in tranquil surroundings. Entrance fee includes a gentle row around the beautifully clear lake. See trout in various stages of their development and visit the St Bernard dogs. Have a fresh trout meal in the restaurant overlooking the lake. On the way out take the rock path formed as the result of an avalanche of rocks and ice many years ago.

JK

KANDERSTEG A very pretty village overlooked by the Doldenhorn and Blumisalp mountains. Known for its climbing and walking routes includinf the Alpine way. From Kandersteg you can take the car by train through the Lotschberg-Simplon tunnel into Italy. Alternatively take the gondola and a relaxing walk through flower decked pastures to Oeschinensee, a spectacular lake in the heart of the mountains, with a choice of well marked paths back to Kandersteg (5 Hours).for the children and young at heart take in the bob run.

JK

STOCK. This is a short distance further up the road through Kandersteg. A cable car will take you to Sunnbuel in the heart of the mountains, a paradise for a walkers.

BLS Autoverlad Loeschberg. Offer travel from Kandersteg- Goppenstien every 20 mins or Kandersteg Iselle in Italy. Its quick easy and reasonably priced, Experience travel by car in your car but on a flat carriage by TRAIN.

J GOPPENSTIEN to BRIG Sudramp s a walk that combines the Train to Goppinstien and walk to Brig ,you can catch the bus or train as you pass several Villages, The walk catches some of the areas fantastic scenery as you descend to 800m (All day required)

J ADELBODEN. The highest mountain village accessible by road with snow capped mountains, flower decked pastures. Set in the foot of Wildstrubel its A wonderland of peace and tranquility, with numerous chair lifts, cable cars and Walks. Means of transport is by Bus or car (5 Hours).

J Lotschberg ramp walk. Walking from Hotenn , near Goppenstien to Lalden

LENK Set in the Simme valley Where the cultures continue from traditional procession of the cows in St Stephan, I September, and October the alpine festival stare including "Hornuss" A very Indigenous Swiss Sport. Lastly note forgetting the Spotted cow home to the world famous Simmentaler Spotted cow.

JK SIMMENTAL valley. A wide valley taking you to Gstaad & the Jaun Pass. Stop at Erlenbach and take a cable car to the STOCKHORN. The cable car glides gently over pastures and through forests. At the halfway stage you will see a beautiful lake and numerous paths for walking (5 Hours).

ERLENBACH:- If your Interested in House history through the valley, you can get a House walk map from the local tourist office and unlock their fascinating history as you walk the Valley.

JK STOCKHORN Situated in the Zweisimmen Vally at village of Erlenbach I.S. A cable car take you in two stages to a spectacular views at the top and some beautiful walks. the half way station offer beautiful walks and fishing in the lake. (small charge)

J MELCHSEE FRUTT From Interlaken about half way to Lucerne via the Brunig Pass is a road leading up to a lesser Known area for walkers with its beautiful cable cars and chair lifts to mountain valleys and small lakes. visit www.melchsee-frutt.ch

KL LUCERNE A superb waterfront setting against a backdrop of mountains; historic churches, the beautiful 14th century covered bridge, waterwheels, interesting shopping and many renowned museums.

J Pilatus Europe's steepest cog rail way www.pilatus.ch

Hergriswil Glass works and tours. A wonderful way to explore the world of Glass making. www.glasi.ch

The Verkehrshaus Schweiz (4-5 Hours) (transport museum 5 hours), the Picasso collection and the Wagner Museum . Plan view

J THREE PASS Susten (2224m) Grimsel (2165m)& Furka(2431) Take the road from Interlaken to

Meiringen, then follow the signs to Innertkirchen. You will approach the Grimselpass and wind your way further up into the mountains. On reaching the top a height of some 7,000ft take the road marked to Andermatt, you are then on the Furkapass. Visit The Rhone Glacier, this used to be much larger than it is now (you can go inside this glacier). Look out for marmots playing on the mountain side, and the pink blooms of the mountain rose. Eventually you will take the road over the Susten Pass and back to Innertkirchen.

Dampfbahn FURKA (Steam railway) www.furka-bergstrecke.ch

J THREE PASSES (col du pillon, Col du Mosses & Juan Pass). Follow a circular route along the Simmental valley through the picturesque towns of Zweisimmen, Gstaad, Gsteig, Col du Pillon, Col des Moses, Chateau- díoex and Gruyeres. Famous for its cheese and Castle perched high upon a hill, Gruyeres was once the former capital of a mediaeval earldom. You can still see signs of medieval times in the houses and castle. Leaving Gruyeres take the road to Broc ( Nestle Chocolate Factory tour seasonal) and make you way back over the JAUN Pass via Charmey & Jaun to complete the route back to the Simmental valley.

Brunig Pass (1007m

Gotthard Pass2108m

Nufenen Pass2478m

Within Switzerland the Swiss National parks are strictly protected for wilderness, Flora, Finer and wildlife. Where all can freely develop under natures natural process unhindered.

Lauterbrunnen - Grindelwald

Kandersteg Goppenstein / Isselle

J

FIESCHERTAL .Taking the loescherberg train to the Sion valley any travelling up to the Furka pass you pass through many beautiful villages of these :-

J Moral is the first village where you take the cable car to Riederalp with its beautiful panoramic views of the GOMS valley and on up to hohfluh the end of the aletschgletscher (viewed from Jungfraujoch).

J Betten offers the cable way to Bettmeralp and Bettmerhorn for 360 deg views of wonderful valleys and Glacier Fiesch offers again a cable way to Fiescheralp & Eggishorn where you can look back up the aletschgletscher to Junfraujoch and behind you views to Italy and Furka pass. All have fantastic walking and complete a beautiful round trip journey.( World Heritage area UNESCO )(7-8 Hours)

JK

Guttannen Kristallmuseam. Only by post bus but you taken up the Grimsel pass to a Lake and under the lake to see the Hydro electric power station and it fascinating surrounds (4-5 Hours).

JK

Emmental Cheese factory at Affoltern (3-4 Hours)

J

Titlis Rotair cable car is a beautiful region for relaxation and walkers alike. Starting at Engelberg up to several plateaus (5-6 hours)

JKL

Papiliorama Is an introduction to Butterflies and nature under several large domes ideal for children to see and experience both nature in daylight and the noctorama. Situated near Kerzers. Route Plan

JKL TROPIQUARIUM (near De Servion "Lausanne") www.tropiquarium.ch Children's day out to see reptiles, birds set in pleasant surroundings.

Scenic routes by train and bus

Glacier Express

Route Zermaty - Brig - Andermatt - Chur - Davos/ St Moritz

Bernina Express

Route: Chur/ Davos - Stmoritz - Berniea Pass - Tirano (- Lugano)

Goldern Pass Line

Route: Zurich - Lucerne - Interlaken - Zweisimmen - Montreux

Wilhelm Tell Express

Route: Lucerne - Lake Lucerne - Flueelen - St Gottard - Locarno/ Lugano

BOHAG Tel CH 033 828 9010 www.bohag.ch

Alp- air Tel CH (0)31 960 22 22 www.alp-air.ch

While we are sure you will find most places interesting in most weathers the above we hope offers a guide to the area. Please ask our on site manager for further advice.