Accommodation at Manor Farm

Click here for the directions out side Switzerland

OUR HOLIDAY HOMES are well equipped and have all the advantages of an apartment plus the special atmosphere and facilities associated with camping. All holiday homes range in capacity from 2 to 7 berth. Remember all our Mobile homes are NON SMOKING. All have a full inventory, drinkable mains water, waste drainage, flush toilet, shower, fridge, gas for cooking & mains electrical supply (220v) for lighting & heating (helping the environment we now use low wattage bulbs where possible). The interior comprises of double and single beds, kitchen/lounge area. Blankets, duvets and pillows are supplied, but you will normally need to take your own bed linen & towels (Bed linen can be hired see our current price list). Each unit has its own outside sitting area with parking space for one car.

MOBILE HOMES All Mobile homes have a lounge/ dining area and kitchen with light elegant bedrooms, shower and toilet with hot and cold running water, a real home from home. Mobile homes can sleep up to six adults (max 7 on request). The kitchens are fully fitted and include a full-size 4 burner gas hob, domestic fridge and a complete range of utensils. The double bedroom incorporates a wardrobe. The second bedroom has two / three beds, plus wardrobe. All have additional storage space under the beds. The shower / wash room has a flush toilet, shower, washbasin, with hot & cold mains water.

SPIEZ Range Cabins. 7.8m (26ft) x 3m(10ft) with Double Bedroom, Single bedroom (2 single beds) -(Additional Bunk for 3 children on request) Fully equipped, comfortable mobile home with hot & cold water, shower/WC. All you need to enjoy your Holiday.

Sleeps maximum 4 adults 2 children, we recommend not more than 5 within the holiday home, 3 Adults 2 children.

Preferred arrangement for comfort and sleeping 2 adults 2 children.

THUN Range Cabins 8.5m (28ft) x 3m(10ft) A larger mobile home with larger main bedroom, Single bedroom (2 single beds, Additional Bunk for 3 children on request Limited). Fully equipped, comfortable Holiday home with hot & cold water, shower/WC. All you need to enjoy your Holiday. Extras, include Microwave, Oven, Television, Electric kettle etc. Sleeps maximum 4 adults 2 children, also Up to 7 in limited availability accommodation. We recommend not more than 6 in 3 Adults 3 children. Preferred arrangement for comfort and sleeping 2 adults 3 children.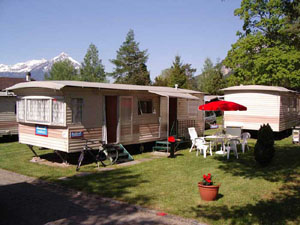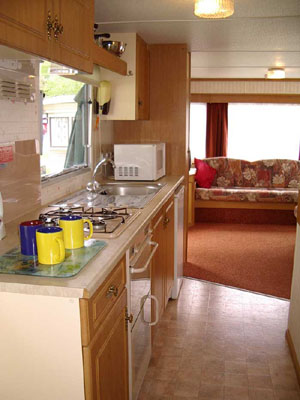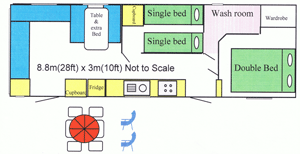 Our Center door Mobile Home A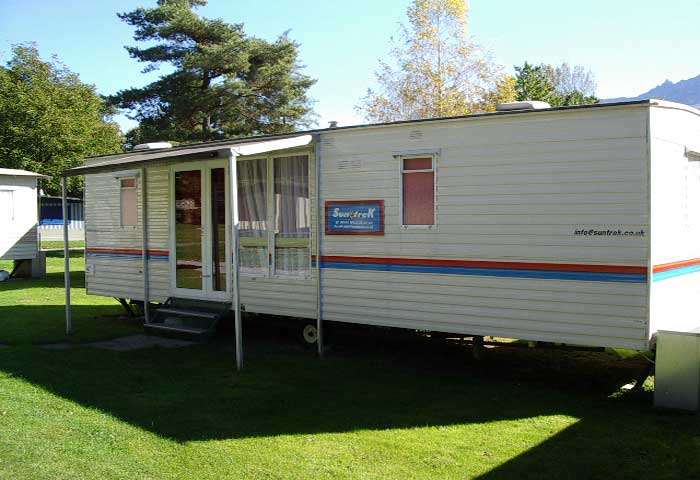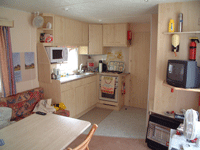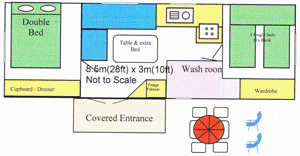 OBERHOFEN Range Cabins. 7.5 x 4 larger Holiday home with large main bedroom, Single bedroom (3 single beds(1 cross over Bunk). Fully equipped, comfortable mobile home with hot & cold water, shower/WC and a patio area. All you need to enjoy your Holiday. Extras, include Microwave, Oven, Fridge freezer, Television, DVD, Electric kettle etc. Sleeps maximum 4 adults 3 children. We recommend not more than 6 in 3 Adults 3 children. Preferred arrangement for comfort and sleeping 2 adults 3 children.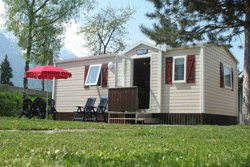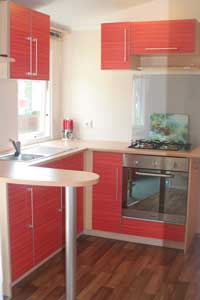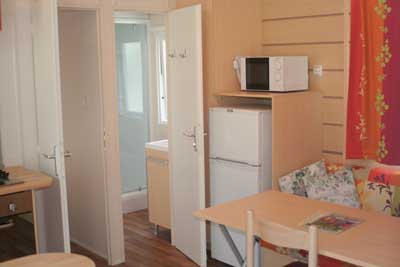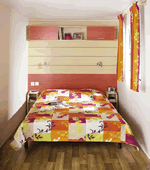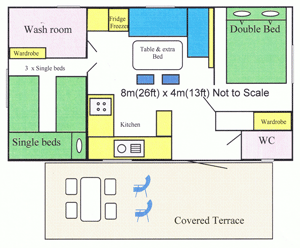 BRIENZ Range Cabins. 8m(26ft) long x 4m(13ft) wide. Situated on Larger sites of Manor Farm, The Brienz range in capacity from 2 to 7 berth offering large comfortable spacious plots. The accommodation benefits from 5 amps supply of electrics, for Microwave, Kettle, Cable TV (Pal D) including Television, DVD and many other mod cons as standard to make your holiday more comfortable. The sleeping arrangements consist of Three bedrooms, "1 double bed, one with 3 single beds including a crossover single bed and one with two singles. Kitchen has a Comprehensive inventory in the Kitchen including Cooking, 4-burner gas cooker and oven, Gas boiler supplying the hot water and cold water and a fridge/freezer (Single door type). Also within the Brienz range you have separate Toilet and Shower/washbasin facilities. 220v electric supply, electric heating. NO Smoking within holiday homes. Outside facilities
Generous patio seating area (not wooden decking but flat stone 2m wide x the length of the holiday home) Table and 4 Chairs + 2 Recliners and Umbrella, with Parking along side the holiday home.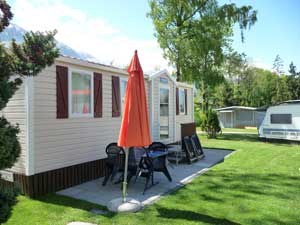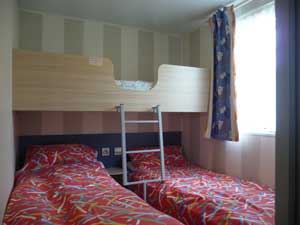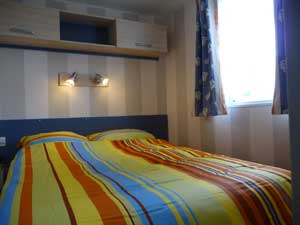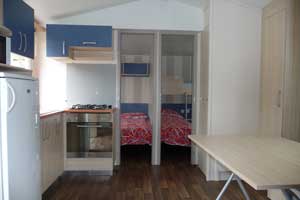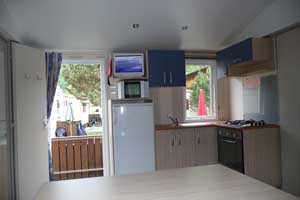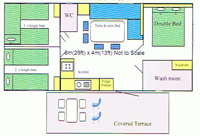 All our units are well equipped and generally contains the following standard inventory:-
Kitchen:- Cooker (4 gas burner) Fridge 1, Fire blanket/extinguisher 1, Kettle 1, Coffee filter or Machine*1, Dinner plates 6, Tea plates 6, Cups & saucers 6 Glasses 6, Tin opener 1, Bottle opener 1, Soup/fruit dish 6, Butter dish 1, Basins 2, Sugar basin 1, Cruet set 1, Cutting board* 1, Bread knife 1, Egg cups 6, Tea Pot 1, Colander 1, Serving spoons 2, Jug 1, Knives& forks 6, Teaspoons 6, Dessert spoons 6, Saucepans x 3 , Grillette* 1, Ash trays 1, Washing up bowl 1, Duster 1, Waste bin/bucket* 1. Broom 1, Dustpan & brush 1, (Mobile home A Gas oven)
Bedrooms (Linen is available for hire, see ** Sheets and pillow cases):- Coat hangers 10, Blankets 8, Pillows 6, Double Duvet* 1, Single Duvet* 2 (3 In the 3 bedded series), Protective sheet* 1, Hair drier* 1
Living room:- Hoover* 1, Broom 1, Fan* (Television in Mobile home A & Oberhofen's only).
Out side:- Picnic table 1, Picnic chairs 4, Recliner Chairs 2, Gas cylinder 1,Doormat 1, Parking for one car.
1*Duvets apply to the current Mobile home fleet in Switzerland only, all other accommodation supply Blankets.
** Depending on your location Linen may be for hire please ask our office for your requirements.
Apartments are well equipped though can vary from the above depending on locations.
Please note. Occasional difference may occur from site to site. The above is for general guide use only
Remember to take towels, bed linen / Duvet covers & pillow cases, as these are not normally supplied and charges are applicable
ELECTRICAL SUPPLIES (220 Volt): For lighting & power. ELECTRICAL HEATERS (Switzerland only): are supplied for the cooler early and late Season. At no stage without prior agreement of Altogold Ltd must you exceed 300w for personal use.
GAS: is supplied. Please see THE SITE MANAGER or SITE RECEPTION for replacement cylinders.
WATER/DRAINS: All are supplied with mains water and are connected to main drains.
FRIDGES: All holiday units have fridges and are mains powered. (240v)
TOILETS: All WC are mains house hold flush type.
PARKING: Generally parking is allowed alongside / nearby your holiday accommodation for one car. Should you bring Two cars / Trailer or require additional space your must inform us at the time of booking and before final monies are paid. (Their may be additional charges)
Please remain within you allocated Parking area.
Arrivals from 1600hrs (Location)
These holidays are Static Holiday homes/ Mobile Homes. Self-catering Accommodation with onsite manager to assist you with holiday help. Cash Damage / Cleaning deposit will be required for key £100, 100Chf, 100Eur or Key voucher. It is YOUR responsibility to leave our homes Clean (as you found it) and undamaged. Failure to do so you could lose your Cleaning/damage deposit.
Late arrivals. If you know in advance you would be arriving late, please let our office know. or contact our manager direct (0041) 079 720 5890
Delayed en-route or arriving late (after 10pm) Manor Farm.
If you are delayed, our Managers will leave a site map out side their accommodation Reception door (With YOUR name on) showing you to your accommodation. Your accommodation will be left unlocked and the light on in the kitchen area. With your final documents, We supply a map showing our managers location, highlighted in yellow, this map also highlights your accommodation. (this occasionally differs to your pre-booked accommodation Please check before entering) Please read the safety notices in you accommodation.
Departures by 1000hrs
General cleaning and repairs are carried out between clients Though its is your responsibility to clean your accommodation before you leave (Free Cleaning materials available form our Site Manager). To help us with this process, unless you have made special arrangements with Altogold, Sun-trek or Swiss Holidays, you will not be able to enter your accommodation before 3:30PM (1530Hrs)on the day of arrival. If you are aware of any damage or shortages, please report them to our Manager/ Owner well before your departure.
Would you kindly ensure that your accommodation is cleaned and vacated by 10:00AM .
THIS ALL HELPS TO MAINTAIN OUR HIGH STANDARDS
Our managers offer a comprehensive service from your arrival to your departure. They are usually available in the morning until 0800 -1000 and then from 1600 - 2100 if you need any help or information. Should you have any breakages, shortages or need any repairs, let us know well before you finish your holiday so we can ensure you have a comfortable stay. Our managers can provide: Gas changes, Linen hire, Tourist information, Travel tickets, Weather information, Emergency information etc.
Company policy: No Smoking, No pets or animals; No Tents between units; No portable naked flame devices (i.e. candles) in any holiday homes; parking for only one car alongside your accommodation. (Additional parking is available for a small charge.) Bar-B-Que and music is accepted with consideration to Others Bar-B-Que must be at least 1.5m away from any Structures, Some locations have Quiet periods these MUST be observed.
When out for the day: Please ensure that you close all windows, all heating and cooking appliances turned off, and that your sun umbrella is closed as high winds can occur without warning (We have warned you).
On your departure: We request that you leave your accommodation clean and tidy (As you found it). Please remember to empty rubbish bins, salt & pepper pots and vacuum cleaners. Cleaning materials are available from our site managers. This helps towards everyone enjoying their holiday and helps us maintain the high standards our clients expect of us.
FIRE: Fire Is always a constant hazard /threat to us all at home and on Holiday. Should a fire occur your safety is primary to us, please evacuate and notify the Reception at once
All Accommodations are equipped with fire blankets and / or fire extinguishers.
If you have an emergency in your accommodation:
• Evacuate all people. • Notify our managers or site reception.

• Never place yourselves at risk.
In case of a medical emergency:
• Notify our managers or site reception. • Interlaken hospital is 4km away.

• After 10pm in high season you will need reception to open the gates if entry or exit is required.
Emergency Telephone numbers
Fire 118
Police 117
Ambulance 826 26 26
NON Emergency
Police 826 51 51
Hospital 826 26 26
In an emergency please inform the our
Site Manager/Site reception as soon as possible.